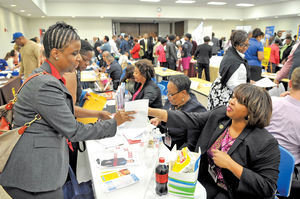 The Urban League of Metropolitan St. Louis partnered with St. Louis Community College at Florissant Valley to host a job and resource fair Saturday, Sept. 13. A long line of professionally clad job seekers snaked around the upper level of the campus' Student Center and spilled through the doors.
Four buildings were utilized for the fair and were often full to capacity. Around noon, campus security informed local Urban League President and CEO Michael McMillan that fair attendees had exceeded 2,500. Angelia Bills, local Urban League vice president of communications, said that number had grown to more than 5,000 by 3 p.m. The fair, scheduled to run from 10 a.m. – 2 p.m., was extended by an hour to meet demand.
McMillan said the event stems from community unrest in Ferguson, Missouri following the fatal shooting of unarmed teenager Michael Brown.
"This event is a direct result of what we heard on the front lines," McMillan said.
He heard from the unemployed and under-employed – mostly men and youth – seeking job training and educational opportunities, he said. It would normally take months to plan an event of this magnitude, but was accomplished in a three-week time frame, he said. The event is a piece of a collaborative effort by many entities to provide the people of North St. Louis County and the entire region with resources to become self-sufficient, he said. He expressed gratitude toward the Salvation Army for being on board since the "onset."
Free "hefty" bags of groceries and toiletries were distributed in the gymnasium.
"It's just for supplementing what they already have," Urban League Director of Operations Quenesha Catron said.
"It's definitely something that will help."
Treat America, which provides catering and cafeteria services for the community college, prepared and distributed 2,500 free sack meals near the Student Center outside the library. Empowerment workshops were conducted on financial literacy, navigating a job fair, first-time home buying, voter education and knowing your rights, among other topics.
Men, women and youth of all ages and ethnicities attended the fair, including 19-year-old Brandon King. King has been job hunting since being laid off in June after working as a dishwasher at a South St. Louis café. He was not looking for a particular job, he said. His only concern was simply to re-enter the workforce. He is studying culinary arts at STLCC's Forest Park campus, but says he "really needs money."
His background complicates his job search, he said.
"I'm actually on probation, and that's what I've been battling every time I try to look for a job," he said. "It's kind of hard; but if you push yourself, it'll come.
Although Sadie Pennington, 68, said she has a job, she also came to the fair seeking employment as well as utility and mortgage assistance, after falling three months behind, she said.
Thirty-five social service agencies and more than 90 employers representing a wide-range of job fields including the Centene Corp. answered the call to help heal and move the community forward, McMillan said.
Centene announced on September 2 that it will open a new claims processing facility in Ferguson, creating 200 new jobs by the end of the year. State and local police departments were also in attendance to expand the recruitment of African-American applicants, McMillan said. The Ferguson Police Department, which serves a predominantly African-American community, has been scrutinized for its lack of diversity since Brown's death. It has only three black officers and 50 white officers.
Missouri State Highway Patrol Capt. Ron Johnson manned a table in the back of the room, graciously answering questions and accepting resumes from applicants.
"This event shows that unemployment is an issue in our community," Johnson said. "And if you look at the group that here, it's really diverse of culture and gender. It's something that we need to continue to work toward."
SOURCE STLAMERICAN.COM